Check out our current promotion to see how you can save.


---
This tiny Dutch-Caribbean island is a charming mix of blonde sand beaches, windswept cacti deserts, seaside bluffs, stunning sunsets and Dutch culture.
Explore Aruba
---
Located in the southern Caribbean, north of South America, Aruba is a year-round haven with gorgeous, white sand beaches, cooling trade winds and warm, friendly people. Oranjestad, Aruba's capital, is a historic port city with a colorful, Dutch-colonial charm. Its harbor village is home to designer shops, museums, cafes and a modern shopping mall. Aruba's countryside is dotted with colorful, country-style houses amid a cacti-studded desert landscape.
Folie von :
Oranjestad's Charm

Slide 1 of 3: Oranjestad, Aruba's capital, is a charming, colorful harbor city with shopping, casinos and nightlife — something for everyone.

California Lighthouse

Slide 2 of 3: Named after a British steamship that wrecked offshore in 1861, the California Lighthouse is one of the most popular stops in Aruba, and a great place to take in the scenic view at sunset.

Beautiful Beaches

Slide 3 of 3: The gentle cooling trade winds, white sand beaches and naturally curved native divi-divi trees make Aruba's beaches some of the most attractive worldwide.
Caribbean Themed Vacations
---
With Delta Vacations, you can choose from an exciting array of themed vacation packages tailored exclusively for a unique experience.
---
Learn more
about the official vacation provider of Delta Air Lines. For service and support from our U.S.-based Customer Engagement Center, call
1-800-800-1504
.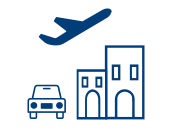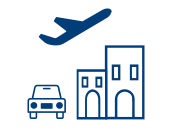 ALL IN ONE
The best vacation packages
designed for SkyMiles® Members.
24/7 CARE
Experience a new standard of care and award-winning support and service —
whenever you need it.